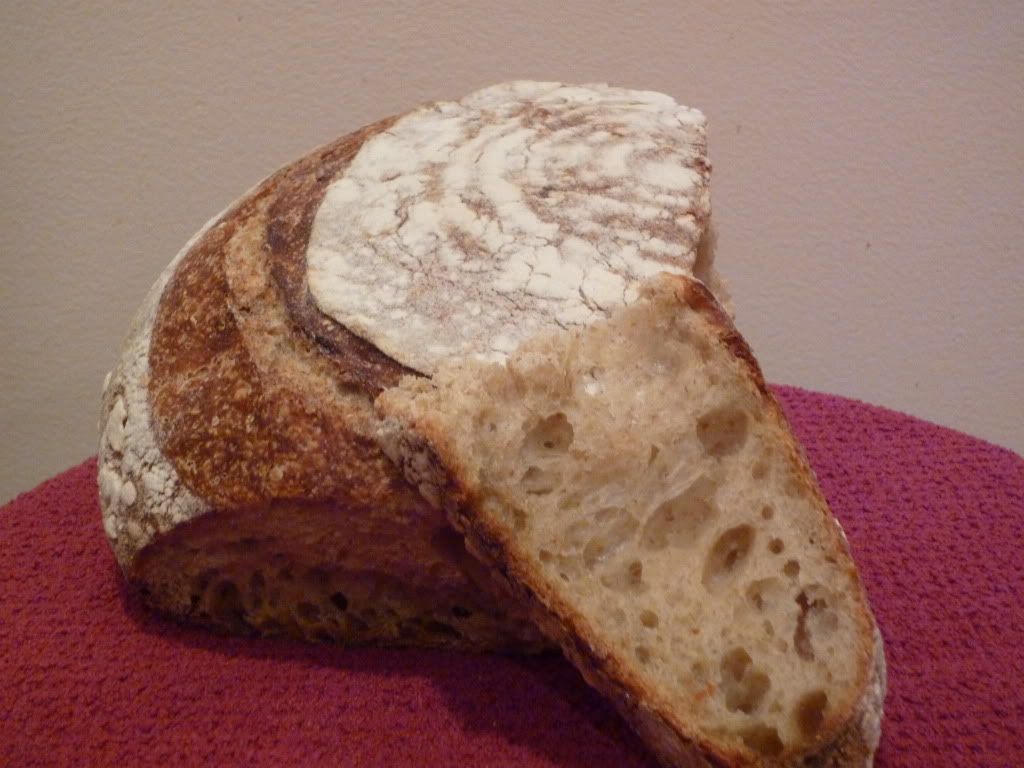 Modified Tartine Country Loaf
This is a lesson on time and temperature in baking. It is one that I learned a few weekends ago. Here is the lesson:
make sure you recalculate time based on temperature
.
Two of the loaves I had this weekend proved the point rather perfectly. The first loaf I made this weekend followed the time precisely even thought the temperature in the kitchen was much colder. Unfortunately, this meant that the final proofing was not as effective as it should have been. The bread, then, had lovely holes, but did not spring much in the oven and had a dense almost doughy texture on the inside. I dried out the bread and made it into croutons. The croutons were good, but they required a lot of drying in the toaster over before I brushed them with my olive-oil herb mixture.
Note Doughy crumb and lack of oven spring.
Loaf number two, however, had a happier time. I messed up my schedule on the bread so I was supposed to be doing a few stretch-and-fold proceedures during dinner. Instead, I let the bread sit in the cold air to extend the time between tending to it. So it rose over 6.5 hours instead of 4. The bread turned out beautifully...so beautifully that I didn't take a proper shot of the crumb before we ate much of it!
Loaf #2 Crust






Loaf #2 Crumb (for better picture see top)