For the second part installment on my family's Christmas traditions, I thought I would talk about greenery.
The Christmas Tree
As long as I can remember, my family has bought a live tree. By "live" I am not just distinguishing it from a fake tree, but also from a cut tree: our Christmas trees have roots and come in a pot. We then plant them in our front yard and have quite a wonderful thicket of Christmas trees from various years. Some of them are now well over 20 feet high.
Redwoods, of course, are always preferable as trees. However, with a live tree, one has to be concerned with how early one buys the tree, how long can it survive in the pot, how successfully will it be able to hang ornaments, etc. There is usually a small selection of live Christmas trees; it cannot hold a candle to the selection for cut trees. For this reason, the Servii have come to love our trees in all shapes and sizes. We have had scrawny, sparse, short, and bent Christmas trees over the years. One year, the trees were so small that we had a copse of three trees together. This year we got a reasonably-sized tree, but it was a ceder rather than a more traditional redwood. It seems pretty happy inside. Once the holidays are over, we will put it on the porch and plant it in the spring.
The Ceder
Decorative Greens
My family loves the look of greenery and the smell of pine. We always have lots of greenery around the house: real pine on the table and around the front door, lighted fake greens on the stairs, a wreath or two (one being the traditional seat of the Christmas mice, which I will explain in the next installment), and sometimes other greenery in various places.
Every year, there is some kind of problem with the real pine that comes for around the door. Even switching companies each year, there is always some kind of mix up. In past years it has been delivered to the wrong house, not shown up at all, been delivered a few weeks early, arrived on Christmas eve (leaving almost no time to put it up), etc, etc. This year, we changed companies again. The first set arrived only five days after we ordered it-- well over a month early-- even though there was a specific request for delay on the order (as to keep the greens fresh). After a long fight with the company, we resorted to ordering the next batch from a new company. They arrived on time (yesterday), but put up the "delivered" notice a hour before they actually came, making us think that they had, once again, been delivered to the wrong house. After a long exchange with FedEx, the package arrived and all was well.
I realize that the greenery saga is not as funny in writing as it if one experiences it year-after-year. My apologies. Anyway, we are going to (hopefully) put the boughs around the door tonight. Wish us luck!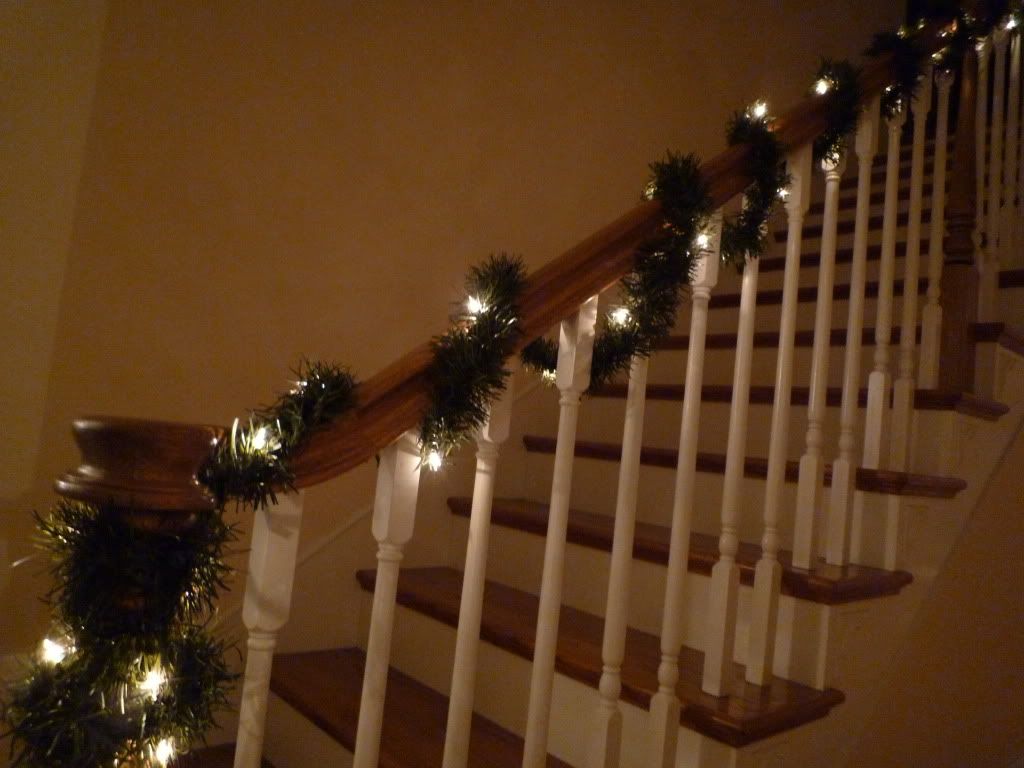 Lighted fake greens on the stairs.
Real greens above the fireplace [1].
Endnotes
There are only three of us, but we thought that it looked better with four stockings so we took a pretty one I was given a few years back and put it up as decoration.
g