I remember as a kid going to the grocery store and begging for a "thumbprint" cookie. These cookies were shortbread thumbprints with chocolate ganache, and they were amazing. However, no piece of shortbread was ever quite like those from the thumbprints.
Recently I discovered in
Joy of Cooking Christmas Cookies
that they have a thumbprint recipe and the secret is: it's almond shortbread. The recipe in
Joy of Cooking Christmas Cookies
is a lowfat version (supposedly), but it still tastes great!
There is one problem with the
Joy of Cooking Christmas Cookies
recipe: it does not hold its shape. Although they looked good when they went into the oven...
Make them into balls and then make a deep knuckle-print in them.
They don't come out looking right unless, about 6 minutes in, you re-print them with a small spoon. When I noticed, I totally freaked out, but they turned out fine.
Baking complete. Now for Ganache!
Ingredients
1 1/2 cups (7.5 oz) all purpose flour
1/3 cup (1.5 oz) cornstarch
3/4 teaspoon baking powder
1/4 teaspoon baking soda
1/4 teaspoon salt
3 1.2 tablespoons (1.75 oz) unsalted butter, softened
3 tablespoons canola oil
1 tablespoon light corn syrop
1/2 cup (3.5 oz) sugar
1 large egg
2 1/2 teaspoons vanilla
3/4 teaspoon almond extract
Directions
Preheat the oven to 375 degrees Fahrenheit.
Stir together flour, cornstarch, baking powder, baking soda, and salt with a fork or wire whisk
Beat together with a fork (or an electric mixer) butter, canola oil, corn syrup, sugar, egg, vanilla extract, and almond extract.
Combine wet and try indgredients and beat until smooth.
Slightly oil hands and pull of chestnut-sized bits of dough and roll them into balls. Place the balls on a non-stick cookie sheet.
Using your thumb or a knuckle, create a deep well in the center of each ball.
Bake for 5-6 minutes.
Take the cookie sheet out of the oven and redo the indents with a small spoon or similar device.
Replace the cookie sheet into the oven until cookies are just barely tinged with brown around the edges.
Take out the baking sheet. Let it sit for 1-2 minutes and then transfer the cookies to a baking sheet to cool.
Then Servia made chocolate ganache. The recipe is easy. The ganache will harden-- don't worry. It took much longer than the recipe suggested, but we let them sit overnight and they were great.
Ganache in process: Step 4.
Ingredients
6 oz semisweet baking chocolate
1 tablespoon butter
1 tablespoon light corn syrop
2 tablespoons heavy whipping cream
Directions
Take two saucepans (one which will fit inside the other) or a saucepan and a heat-proof bowl. Fill the larger saucepan with water and bring the water to a slow simmer
Put the smaller saucepan (or bowl) into the larger one (face up) so that it heats up in the water.
Melt the chocolate in the inner saucepan.
Add the butter, corn syrop, and whipping cream.
Stir until the ingredients until they create a silky smooth ganach.
Using a spoon, fill each thumbprint with 1 teaspoon of ganache.
Let sit to to dry until the ganache is hard to the touch-- at least 1.5 hours, but may take more.
These cookies are amazing. Don't eat too many!
Updates 12/27/10
: some pictures of the final stages of the cookies.
Servia fills the indentation with chocolate ganache.
A perfect thumbprint.
The Cookies.
The cookies were lovely, and we gave them away as gifts at Christmas.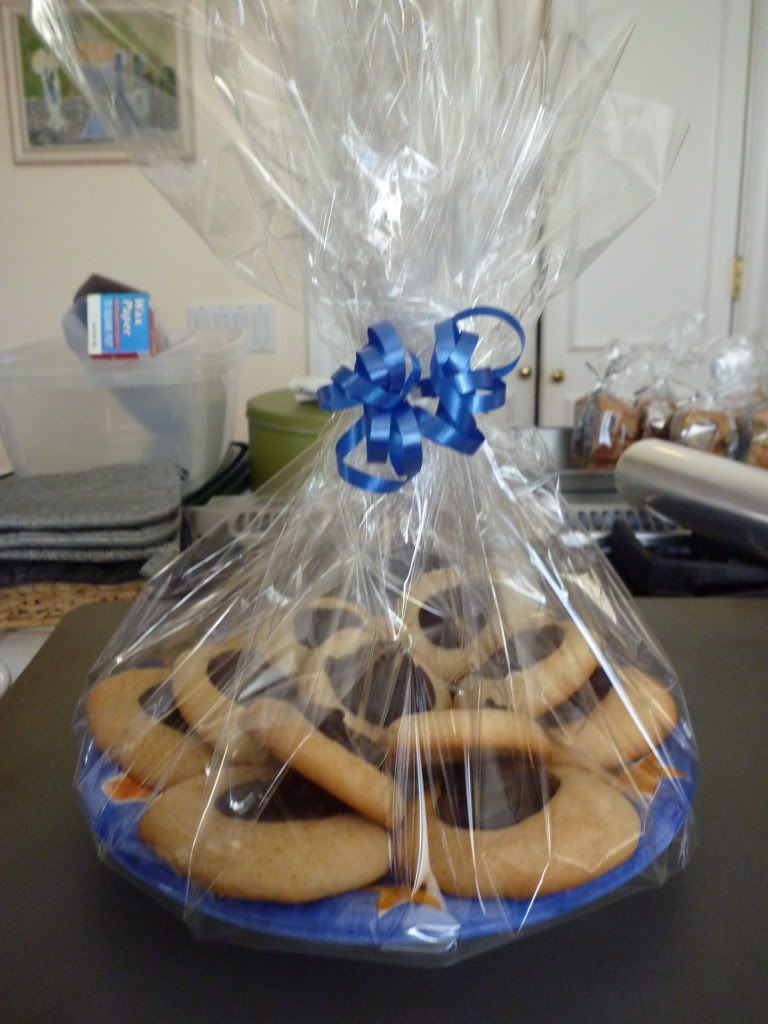 Wrapped and ready.